Digital Printing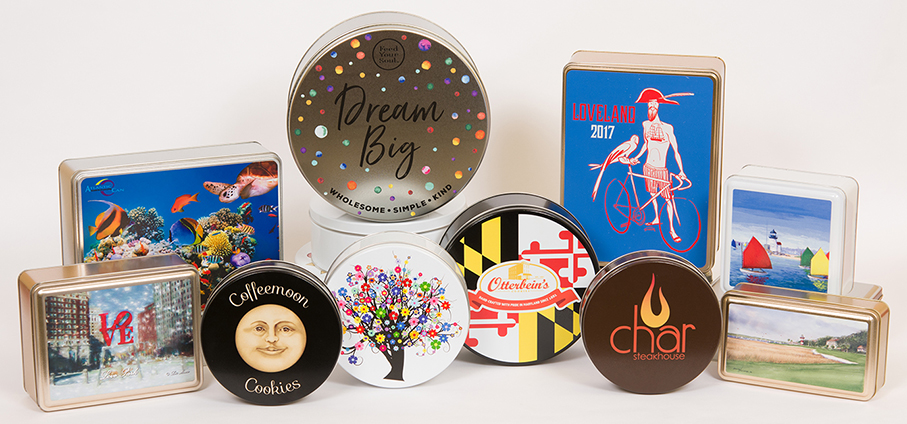 Atlantic Can offers full-color CMYK process printing. This means that we are able to take your high-resolution digital artwork and print it to near photographic quality directly onto the covers of our tins. Our digital printer is state-of-the-art in our industry, printing up to 1000 dots per square inch. The printer prints with 21 UV ink jets, including white, to give a superior, high-quality result.
Simply send us a picture of your store or goodies and we will print it on a tin cover of your choice. You will be amazed at the colors and image clarity and how this technology allows us to create the most personalized tin artwork imaginable.
This printing service is ideal for short runs (ranging from 24 to 5000 pieces or more) that require near photographic images.
Our full color, personalized, high-resolution, tin covers are perfect for corporate gifts, favors, promotions, invitations, special events, and so much more. The possibilities are endless!
You supply the superior graphics and we'll supply superior printing! It's a partnership that's sure to put you ahead of the competition.
DIGITAL PRINTING ARTWORK REQUIREMENTS
Our digital printing process is compatible with most industry standard file formats. However, we do prefer that you send us the original editable file that your logo or artwork was created in. This way we can make any necessary changes if needed. We can accept vector files (AI, EPS, SVG, PDF), 300 ppi resolution editable Adobe Photoshop files (PSD), 300 ppi resolution JPG, PNG, and TIFF files, and more. If you have any questions about file types, please ask the graphic designer that originally created your logo/artwork. Or you can also submit every artwork file that you have and we can let you know which one is best.
Artwork can be submitted as an option for any solid colored tin after you request a free quote we will contact you with your customization options.
No templates are needed. Just have your art created inside the proper maximum print areas that are listed below.
Maximum Print Areas for Digital Printing
COVERS ONLY (top surface of the lid)
1S

6.5" Diameter

2C

7" Diameter

3C

7.875" Diameter

5C

9.625" Diameter

115

9.625" Diameter

5S

6.5" Diameter

8S

6.5" Diameter

1/2 QT

3.25" Diameter

1QT

3.6875" Diameter

10T

7.25" Diameter

15T

8" Diameter

25T

8" Diameter

50T

10.25" Diameter

2SQ

5" x 5" Square

1REC

4.125" x 2.75" Rectangle

3REC

6.75" x 3.375" Rectangle

4REC

7.125" x 5.125" Rectangle

12REC

10" x 7.375" Rectangle

113 Hinged

2.125" x 1.65625

"

Rectangle

205 Hinged

3.5" x 2.125" Rectangle

309x104

3.25" Diameter
Resolution (ppi):
The preferred resolution of your file should be 300 ppi at the size indicated in the maximum print area table above. Lower resolution files are acceptable but not preferred for the best possible output. Artwork saved from a web site is usually very low resolution and not suitable for print. Remember, the higher the resolution the better your artwork will look when it is printed.
Vector art is preferred whenever possible as it is scalable to any size without loss of quality. File formats that might be vector include .eps, .ai, .svg, and .pdf.
Fonts:
If your artwork contains any sort of type set using fonts, they MUST be included in a collected "FONTS" folder. Otherwise, they can be converted to outlines (AKA curves or paths) beforehand and a font collection is not needed. Remember, once fonts are converted to outlines we cannot make any changes to your type if corrections are needed. You may want to send us both versions, the original and the one with type converted to outlines.
Color:
All of our digital output is produced in CMYK color space and your files should be created as such. If your artwork needs to be converted from RGB, a slight color shift may occur. Pantone spot colors may be used within your artwork to achieve a more predictable color output, however there still may be a slight color shift.
Minimum Order:
The minimum order for digital printing is 24 tins.
Lead Times:
Lead time for most orders is 1-2 weeks after proof approval. Note lead times will vary during the seasonal months of September thru December.
PRICING
Our Digital Print pricing is located on the bottom of page 7 of our price List. For detailed pricing, please request a quote. You can request a quote for a specific product by visiting the product page on our site and clicking the 'Request a Free Quote' button, or you can request a quote by clicking the button below and specifying which products for which you'd like to get a quote in the form.